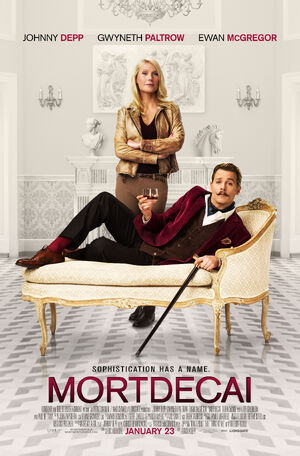 Mortdecai is an upcoming American action comedy film directed by David Koepp and written by Eric Aronson. The film is adapted from the book anthology The Mortdecai Trilogy written by Kyril Bonfiglioli. It stars Johnny Depp in the title role and also features Gwyneth Paltrow, Ewan McGregor, Paul Bettany, Olivia Munn and Aubrey Plaza. The film is scheduled to be released by Lionsgate on January 23, 2015.
Juggling some angry Russians, the British MI5, his impossibly leggy wife and an international terrorist, debonair art dealer and part time rogue Charlie Mortdecai must traverse the globe armed only with his good looks and special charm in a race to recover a stolen painting rumored to contain the code to a lost bank account filled with Nazi gold.
Paul Bettany as Jock Strapp
Olivia Munn
Jeff Goldblum
Aubrey Plaza
Oliver Platt
Ulrich Thomsen
Community content is available under
CC-BY-SA
unless otherwise noted.